Joey B Announces Sophomore LP "Closure" | @JoeyBHipHop
April 1, 2017
Joey B has announced the official release date for his sophomore LP titled "Closure".  The project will be available worldwide June 2nd 2017 through all digital media & streaming sites.  Physical copies will be available at various stores as well as directly on www.JoeyBhipHop.Com. "Closure" is literally set up as a walk through Joeys Life, it starts out dark and works it's way into a positive light, almost mirroring the transition in the Massachusetts emcee's life.  The fifteen track album features Joe Budden, Kxng Crooked, Slaine, Pace Won, & Tsu Surf.  Stand out tracks include "Black List", "Met The Devil" (Ft Pace Won) "Closure: One Last Conversation"(Ft.  Red Pages) as well as the fan favorite "Wrong Time" (Ft. Trev Rich & Red Pages).
On the road leading up to a successful album release, Joey B has also announced the pre-sale on his clothing line, a "Booty Shorts Contest" (which you can find out more below), and lastly he will be releasing the Official Joey B unisex fragrance by L7 Premium Fragrances which is currently in production.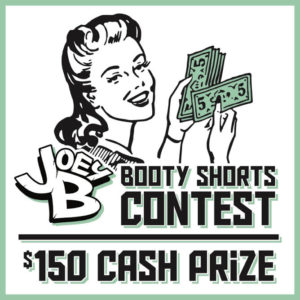 Full Details On The Official Joey B "Booty Shorts Competition" Are Now Available:
GRAND PRIZE:
*** $150 CASH! (YES real Cash Not anything besides what it says)
*** A FREE Joey B Women's tank top (Or men's tee if preferred)
*** 2 Free Tickets to ANY Joey B show/performance in ANY city or state ANY DATE
*** FREE copy of Joey's forthcoming album "Closure"
*** Free Joey B Stickers (New Ones NO ONE has seen Yet)
There will also be 2nd & 3rd Place Prizes Which will include Free CD's, A Womens Tank top or Mens' if preferred, Stickers and More!
The Only catch (Which Really isn't one) If you are opting into the contest we are charging…. A whole $8…. For that $8 You will get a pair of the Booty shorts which strictly covers the cost and also includes free shipping and handling/Delivery.
OR…. if you are Local to the greater Lowell area you can Pay with Cash as long it is received on or before 4/10
AGAIN ALL ENTRIES MUST BE IN AND PAID FOR BY 

April 10th

.
YOU DO NOT HAVE TO INCLUDE YOUR FACE IN THE PICTURE AND YOU CAN REMAIN ANONYMOUS ON FACEBOOK, SO INSTEAD OF USING YOUR NAME YOU CAN BE "CONTESTANT Number 1…etc"
Contest Will Be Taking PLACE From The Morning of 
May 15th
 Until 
9pm(est)
Sunday May 21st
.  Winners will be announced The Morning of 
May 22nd
 and prizes will be available immediately.  If You are out of state, Items will be shipped free of charge.
THE ONLY Requirements to enter the contest:
1) Have an amazing derriere
2) Confirm with Joey Barbieri (and/or) Management BY 
APRIL 10TH
 at 
Booking@JoeyBHipHop.com
 ****Please include the size of the booty shorts you will need and where you would like them sent as well as your commitment to participate in the contest.  (AGAIN Anonymity is NOT a problem at ALL!)
3) SKIP THE PRESALE ON THE WEBSITE and Contact JOEY B directly either on FB messenger or at 
Booking@Joeybhiphop.com
 so he can get you your pair & correct size for only $8 (THIS MUST HAPPEN PRIOR TO 
April 10th
) You will also receive FREE SHIPPING/DELIVERY
So How It Works:
*Contest entries close 
April 10th at 9pm(est)
 The order for products will be placed 
Tuesday April 11th
, It will take approximately 3 weeks to receive all merchandise which brings us to approximately 
May 2nd
.  We want to allow all the ladies ample time to receive the product and take the perfect picture that's going to win them that GRAND PRIZE!
*Same Goes for 2nd and 3rd place.
*ALL Pictures must be submitted to: 
Booking@JoeyBhiphop.com
By 
8pm(est)
May 14th
.  
May 15th
 All pictures Will Be Posted to The Official Joey B FB account, the picture that gets the most likes at the end of the duration of the contest will win the grand prize.
**Ladies who choose to share their photo to get more votes are encouraged to do so.  People who see a photo they like and want to get said photo more likes YOU are also able to share the photo.  (PLEASE NOTE, IF YOU SHARE A PHOTO  TELL PEOPLE TO CLICK THE ACTUAL PHOTO AND LIKE IT AS LIKES ON THE ACTUAL PICTURE ARE THE ONLY ONES THAT WILL BE COUNTED)
* Upon sending in your picture in the Booty shorts please feel free to include a Caption .  The caption may read whatever the contestant would like it to and it will be added with your photo.  All Captions will also contain 
www.JoeyBhipHop.Com
 (
At The Very bottom)
********Again Contest Will Run From 5/15-5/21 HOWEVER YOU MUST SIGN UP BY 
APRIL 10TH
 NO EXCEPTIONS UNLESS YOUR NAME IS RIHANNA******